PAIR WITH THE
Home Fill System
The Home Fill System is Omura's revolutionary stick filling system developed and patented by the engineers at Omura. Simply fill with ground flower, press down and go! Simplicity at its finest!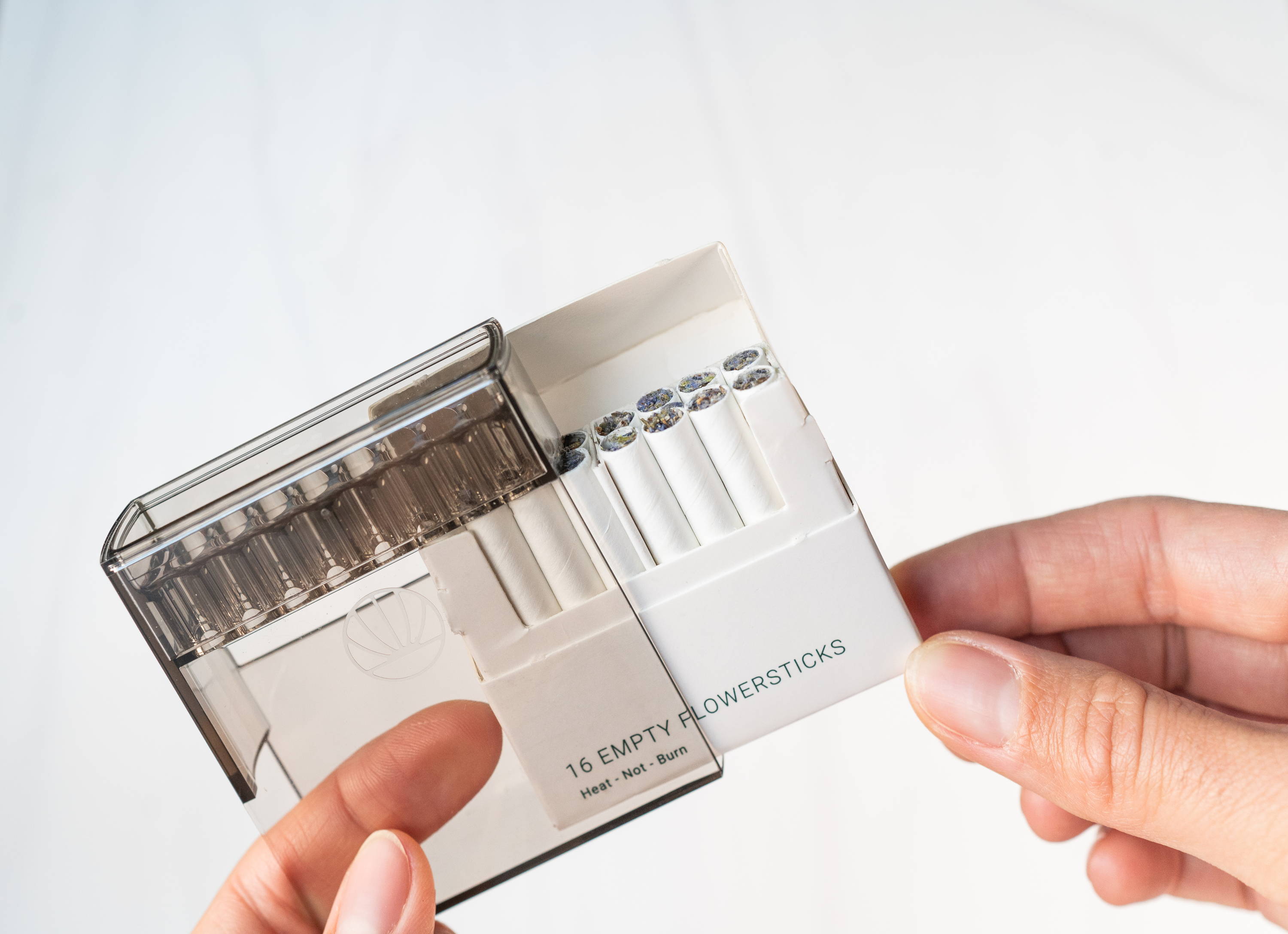 INTRODUCING
Empty Flowersticks
Empty Flowersticks are a revolutionary new way to enjoy whole flower consumption. Activating 99% of cannabinoids during use, producing only vapor, never smoke or ash. A Flowerstick acts as a single-use mouth piece that is fully biodegradable with FSC-certified paper.
No more single-use plastics, ever!
Customize
Empty Flowersticks allow you to create your own experience with your favorite whole flower herbs, whether they're store-bought or home-grown.
Easy to Use
Omura created the new Home Fill System for you to be able to fill your 16 Flowersticks at once. No hand rolling, packing, or filling necessary.
Keep it Social
Delivering a precision-dosed cannabis experience that allows you to enjoy a fully-controlled, fully-functioning high to enhance the moment you are in.
Yes, the Flowersticks and the 16 Flowerstick pack are 100% made with FSC-certified rainforest friendly paper and are not only biodegradable but also compostable. No single-use plastics!
You should use approximately 1.75 - 2 grams of ground dry herb to fill all 16 sticks or approx. 0.125 grams per stick. If you use a little less it will be slightly easier to inhale (less draw resistance), however using less flower also means that the flower is more likely to fall out. Try not to use more than 2 grams of flower as this can make it difficult to inhale (higher draw resistance). Keep in mind that using different dry herb can have a different experience - just like with coffee!

If you use the Home Fill System then you have to fill the full pack of 16 Flowersticks. However you can also remove single sticks at a time and handfill them instead. Please see How To Fill Your Flowersticks videos on Omura.com. If you have removed any of the sticks from a 16 pack then the remaining sticks cannot be filled using the Home Fill Machine. We recommend keeping a separate pack for single stick fill use if preferred.
Use any regular grinder or milling machine to grind the flower into small enough particles to fall into the Flowerstick cavity. Each flower will be slightly different so experiment to find what works best for you.
We do not recommend reusing the Flowersticks as they have been designed for a single use and will begin to degrade after their intended use.
Excessive movement, vibration, or rattling of the Flowerstick packs can cause flower to fall out of the Flowersicks. It is more likely to occur if the sticks have been underfilled or when there are less sticks in the pack so they are moving around more. 
That is the moisture in the flower evaporating that can cause what is called "hot puff". If this is happening to you, then try taking 1-2 short puffs during the warm-up cycle and this should remove the moisture before it collects.